I've decided to once again dabble in a little dressmaking, this time for Maddy. After my successful attempt at a fall jumper for Sam, I thought I'd try making them a Spring/Summer dress this time around. I only had about 3/4 yd. of this Sarah Jane Children at Play fabric to work with, which may not have been enough for a size 6 girls dress, so I decided to make Maddy's dress (18-24 mos) first.
We took a few pictures outside in the sunshine, but she was not at all interested in posing for the camera.
There was all kinds of exploring to do in the backyard.
Like trying to climb the playhouse stairs while Mommy was occupied trying to
find the right setting on her camera.
And of course, getting in a little swing time.
Pattern is The
Bella Dress
by Mama Stellato. I found her pattern shop on Etsy when I typed in "peasant dress" in the search field. The instructions were very simple to follow and the dress sewed up quickly! I'll definitely be making more.
I've linked up with the following blogs this week!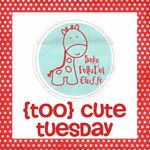 CGM